Comparative anatomical and micromorphological study of some Rumex species (Polygonaceae)
Abstract
Rumex (Polygonaceae) is a large genus of annual, biennial and perennial species in temperate regions of the world. In Iran it is represented by 23 species and some hybrids classified in three subgenera. The species identification is difficult due to the importance of fruit features in species separation despite the fact, that plants lose their flower and some other features while bearing fruits. Providing the individuals with the proper set of diagnostic features is very difficult. There are inadequate anatomical studies of Rumex. The present study reports the first detailed stem anatomy and epidermis micromorphology of 6 species of Rumex in Iran. Main aims of this study were to find the diagnostic value of the adopted features. Cross sections were made by hand and double colored. Dorsal and ventral leaf epidermises were studied by Scanning Electron Microscopy (SEM). Results of stem anatomical study showed that collateral vascular bundle is only present in R. chalepensis and oxalate calcium druse crystals were only absent in R. elbrusensis. The micro-morphological study of epidermis showed that all species studied had anisocytic stomata type, but there were differences in the epidermis and stomata cell size. Species relationships based on the results have been discussed.
Downloads
Download data is not yet available.
References
Ahmad K, Khan MA, Ahmad M, Zafar M, Arshad M, Ahmad F (2009) Taxonomic diversity of stomata in dicot flora of a district tank (N.W.F.P.) in Pakistan. AJB 8(6):1052-1055.
Ayodele AE, Olowokudejo JD (2006) The family Polygonaceae in West Africa: Taxonomic significance of leaf epidermal characters. S Afr J Bot 72:442-459.
Chase M, Reveal A (2009) An update of the Angiosperm Phylogeny Group classification for the orders and families of flowering plants: APG III. Bot J Linn Soc 161(2):105-121.
Hameed I, Hussain F, Dastagir G (2010) Anatomical studies of some medicinal plants of family Polygonaceae. Pak J Bot 42(5):2975-2983.
Hong SK, Ronse Decraene LP, Smets E (1998) Systematic significance of tepal surface morphology in tribes Persicarieae and Polygoneae (Polygonaceae). Bot J Linn Soc 127:91-116.
Joshi AC (1936) The anatomy of Rumex with special reference to the internal bundles and the origin of the internal phloem in the Polygonaceae. Am J Bot 23:362-369.
Keshavarzi M, Mosaferi S, Shojaii M (2012) Leaf anatomical studies of the annual species of Polygonum s.l. (Polygonaceae) in Iran. Phytol Balcan 18(2):127-133.
Lersten NR, Curtis JD (1992) Foliar anatomy of Polygonum (Polygonaceae): Survey of epidermal and selected internal structures. Plant Syst Evol 182(1-2):71-106.
Li B, Zhang WG, Chen SHF, Yang SG (2008) Comparative anatomy of the leaves of Rumex in Jiangxi J Wuhan Bot Res 26(5):443-449.
Metcalfe CR, Chalk L (1950) Anatomy of Dicotyledons, Volume 2. Clarendon Press, Oxford.
Mozaffarian V (1988) New species and new plant records from Iran. Iran J Bot 4:61-70.
Mozaffarian V (2015) Identification of Medicinal and Aromatic Plants of Iran. Farhang Moaser Press, Tehran.
Nazem BZ, Keshavarzi M, Gholami A (2015) Stem anatomical study in some annual Polygonum L. (Polygonaceae) species in Iran. Pajohes G J 28(3):647-653.
Punt WP, Hoen P, Nilsson S, Thomas L (2007) Glossary of pollen and spore terminology. Rev Paleobot Palyn 143:1-81.
Rechinger K (1968) Polygonaceae. In Rechinger K, Schlman-Czeika H (eds), Flora Iranica, Vol 56. Akademische Druck und Verlagsanstalt, Graz, 2-24.
Ronse DLP, Akeroyd JR (1988) Generic limits in Polygonum L., and related genera (Polygonaceae) on the basis of floral characters. Bot J Linn Soc 98:321-371.
Sahney M, Vibhasa (2012) Stem anatomy of medicinally importance Rumex hastatus D. Don. (Polygonaceae). Res J Agric Biol Sci 8(2):154-157.
Sanchez I, Kron KA (2008) Phylogenetics of Polygonaceae with an emphasis on the evolution of Eriogonoideae. Syst Bot 33(1):87-96.
Soleimani M, Jafari A, Nejad SKH, Amiri MD (2014) Comparative anatomical and palynological studies on Rumex L. species (Polygonaceae) in NE Iran. GJBS 4(4):111-115.
The Plant List (2013) Version 1.1. Available: http://www.theplantlist.org. Accessed 1st January.
Yasmin G, Khan MA, Shaheen N, Qaim HM (2010 a) Taxonomic significance of leaf epidermal anatomy of selected Persicaria Mill. species of family Polygonaceae from Pakistan. AJB 9(25):3759-3768.
Yasmin G, Khan MA, Shaheen N, Qaim HM (2010 b) Micro-morphological investigation of foliar anatomy of Fagopyrum Mill. And Rumex L. of Polygonaceae. Pak J Bot 42(1):47-57.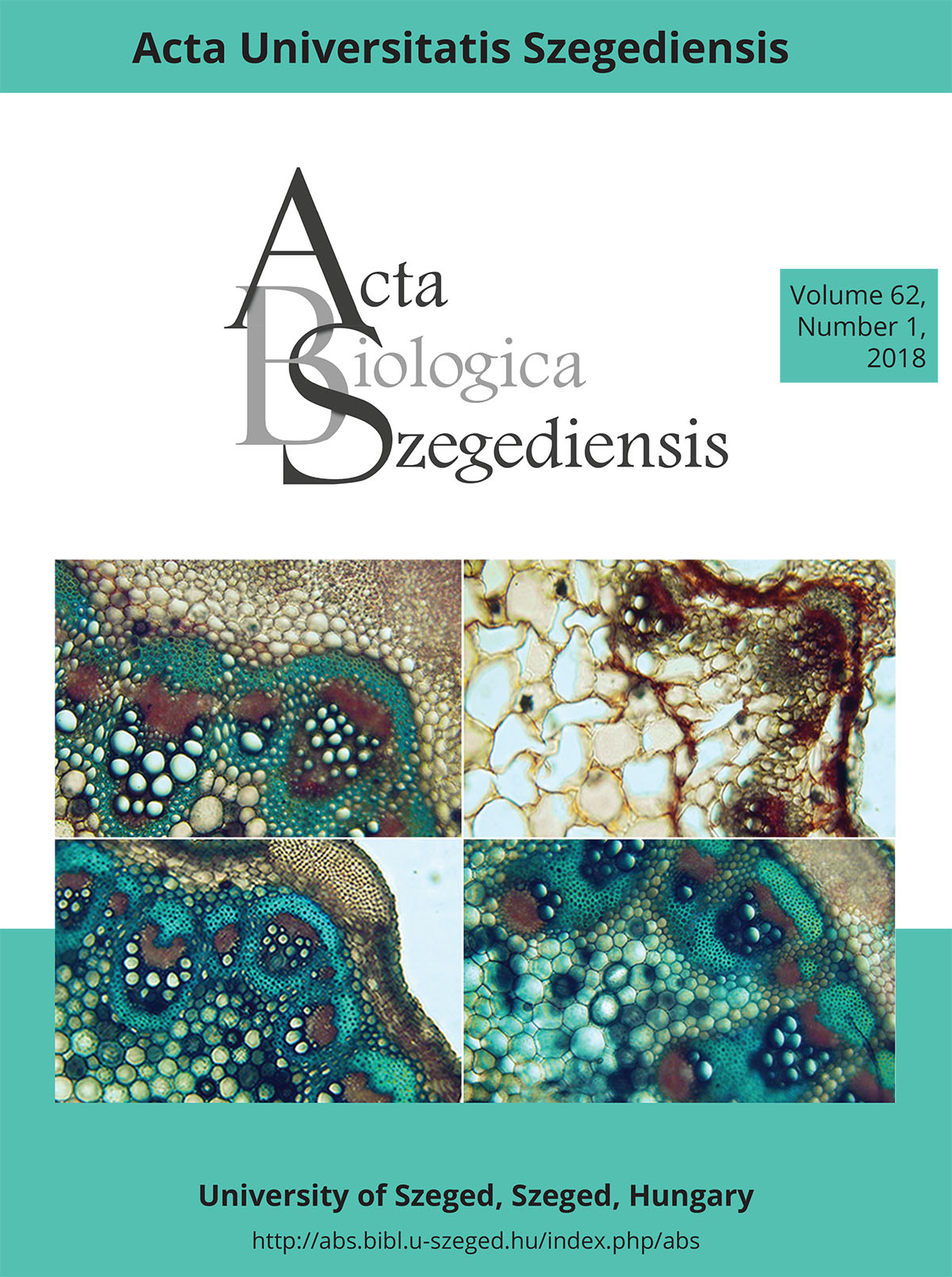 Downloads
How to Cite
Keshavarzi, M., Ebrahimi, F. and Mosaferi, S. (2018) "Comparative anatomical and micromorphological study of some Rumex species (Polygonaceae)", Acta Biologica Szegediensis, 62(1), pp. 45–52. doi: 10.14232/abs.2018.1.45-52.